Cameron Bowyer | Portfolio Site
Video, Interactive and Multimedia
Animation Test

An animation test I took recently for a local animation house using Flash CS5.5
Web Mobilized Media Inc.
Customer support videos
Short video segments explaining various aspects of the mobile ad service platforms functions and features. Built using Photoshop, Cinema 4D and composited in After Effects.
Kitchen Parties
Web Banner Animation
An animated banner that played on the Kitchen parties website. Built using MacOSaiX, Cinema 4D and composited in After Effects.
Royal Canadian Navy
Web-based Officer Training Courses
Working through our partner Bravo-Zulu Productions Inc., Web Digital Media Services has completed assets for two e-learning courses for the Navy. Here are a sample of some of the illustrations we have been working on.
PureSafety
Web-based Safety Training Courses
I was employed at PureSafety for over four years as the Creative Director of Content Development. The majority of my time was spent on content production producing fully-functional online training courses, complete with complex animation. Occasionally I would also meet with clients and artists to work through content issues. I was also responsible for guiding the professional training development of our in-house artists.
This is a collection of screenshots from one of the safety training courses I developed over the four years. These courses were all developed using Flash and are delivered on line though a proprietary learning management system.
Overhead and Gantry Crane Safety
Lunny Communications
Museums, Science Centre, Theme Parks and Attractions
From 1998 until 2003 I was employed as a Multimedia Producer for Lunny Communications in Vancouver. Lunny specialized in creating engaging user experiences for museums, science centres and themed attractions such as the World Expos.
Dave Promo Webisodes- Episodes 1 and 4

I wrote, produced and did the audio for these webisodes. Animation was done by the very talented Allan Puaca. The client wanted to create some buzz prior to the launch of an e-learning game targeted for high school students. Throughout the game players glean details on the skills and education one would require for a career in software development. In the first webisode we are introduced to Dave, the company's old server who has been downgraded to an email server. In episode 4 Dave learns that something is wrong with the new server and that the company needs him back in his old job. The game picks up with Dave being assigned to assist you in solving the mystery of what happened to the company's new "intelligent" server. Requires Flash.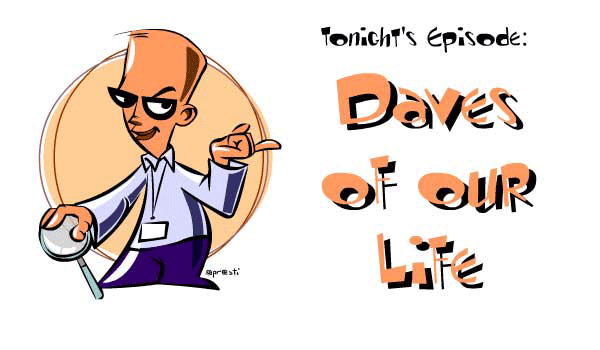 Solar System Exhibit Demo

The front end of the Solar System interactive kiosk built in 2002 for the Saudi Science and Technology Centre. This interactive built with Flash embedded in Director allowed visitors to embark on several missions to gather data throughout our solar system. Due to the custom nature of this interactive, I am only able to demonstrate a sample of the front end interface that greeted users. Requires Flash and takes a minute to load.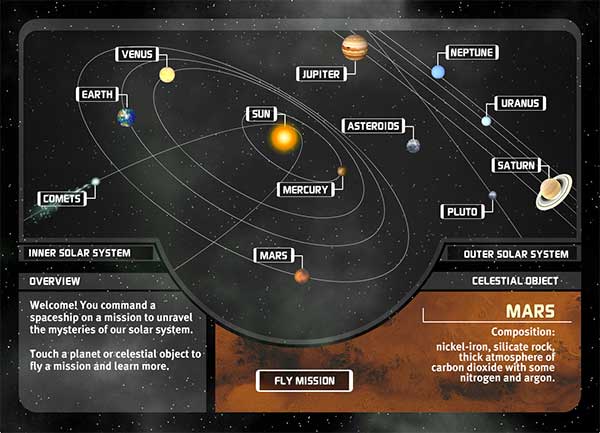 Cellular Processes Interactive Kiosk

Various eukaryotic cell structures and processes are demonstrated using 2D and 3D animation. This exhibit is found in the Living World Gallery at the centre.
Origins of Language Interactive Kiosk

One of my first interactive projects. Guests were invited to type their names using the onscreen keyboard. When the Return key was pressed an animation showed the letters in your name reverting to earlier and earlier letter forms tracing back to their origins.
Biotech Career Planning Kit and Website

The BioMars kit is designed to fit into the provincial science and career planning curricula, and combines edu-tainement learning with serious science and a comprehensive career resource. The kit provides opportunities for users to learn about career opportunities in biotechnology; learn what skills and thinking processes are involved in biotechnology careers; explore the interviewing process and human resources management principles; engage in problem-solving, critical thinking, evaluation as well as team-building. The kit contains: - The BioMars CD-ROM - A Career Adventure Game - The Biotech Career Reference Guide - The Biotechnology Career Teacher's Guide - . . . And a free BioMars Career Adventure Poster
Expo 2000: Hannover Interactive Exhibits

A sampling of some of the 12 Flash/Director interactive exhibits created for the Energy Pavilion at the world's fair in Hannover, Germany.
OSIF Logo

I created this motion graphic for the front of a commercial we put together to promote the Okanagan Society Of Independent Filmmaking.
Maze Game Trailer

Maze was a game idea I was toying with. I put this little teaser together to generate some buzz for the folks at Community Futures to whom I was pitching the idea.
Molson Indy Vancouver 2001 & 2002 Corporate Sales CD-ROM

12 Fast Years was how the final Molson Indy Vancouver CART Race was promoted. This disc was designed to assist in the planning and promotion of corporate ticket packages.

The disc features stills, video and audio from the event. I do not have the rights to show any of the video here. But there is a small swf of one of the sections. It shows how the interface works and has some nice little flash animations of audience stats. The last "next" click just clears the screen at the end.
Explorations

Little snippets of personal or professional development projects I have done over the years.